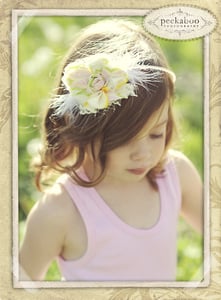 $

6.50
Juliette La Fleur PDF Tutorial EPattern
All fabrics can be used to make these!
Pattern will be emailed to you within 24 hours after purchase.
NO SEWING MACHINE REQUIRED! JUST NEEDLE AND THREAD!
In this pattern you will learn to make a Juliette La Fleur.
Includes INSTRUCTIONS ON ADDING FLOWER TO A HEADBAND.
*19 pages of color photos and concise, clear instructions
These flowers can be made in any size and would be great for:
Start your own Etsy business making these! I don't even care if you use my pattern to sell them as long as you send a link to my pattern on your listing.
*Valentine's Day gifts for teachers, friends, coworkers
*Make your flower into a brooch
*Baby or Toddler's headbands or hair clippies
*Adult hair pieces or headbands
*Bib necklaces
*Sewn onto a tee shirt around the neckline
*Sewn onto the waist of a dress or skirt
*Make a bodice and hand sew flowers all over it for a little girl
*Sewn on right above the ruffles of a little girl's ruffled pants
*Bib necklaces
*Wedding bouquets, table centerpieces, or corsages
*Wedding favors for your guests
*Wedding kissing balls
*Wedding dress embellishment
*Ring bearer pillow
*Wedding chair cover or pew embellishments
*Flower girl's bouquet
*Reception decor
*Flower girl's dress embellishment
*Home decor sewn onto a pillow, drapes, canvas wall hanging, throw, fancy towels
*Photographer's props for children, still art, or commercial photography
*Prom dress embellishment
*Handbag or purse embellishment
*Wallet embellishment
Pattern will be emailed to your Etsy email address and will not be physically mailed.
http://www.peekaboophotos.com/
Photography courtesy of the ABSOLUTELY FABULOUS Kate Moss with Peekaboo Photography. If you are in Utah you should drive, fly, or crawl to her to schedule your family photos!